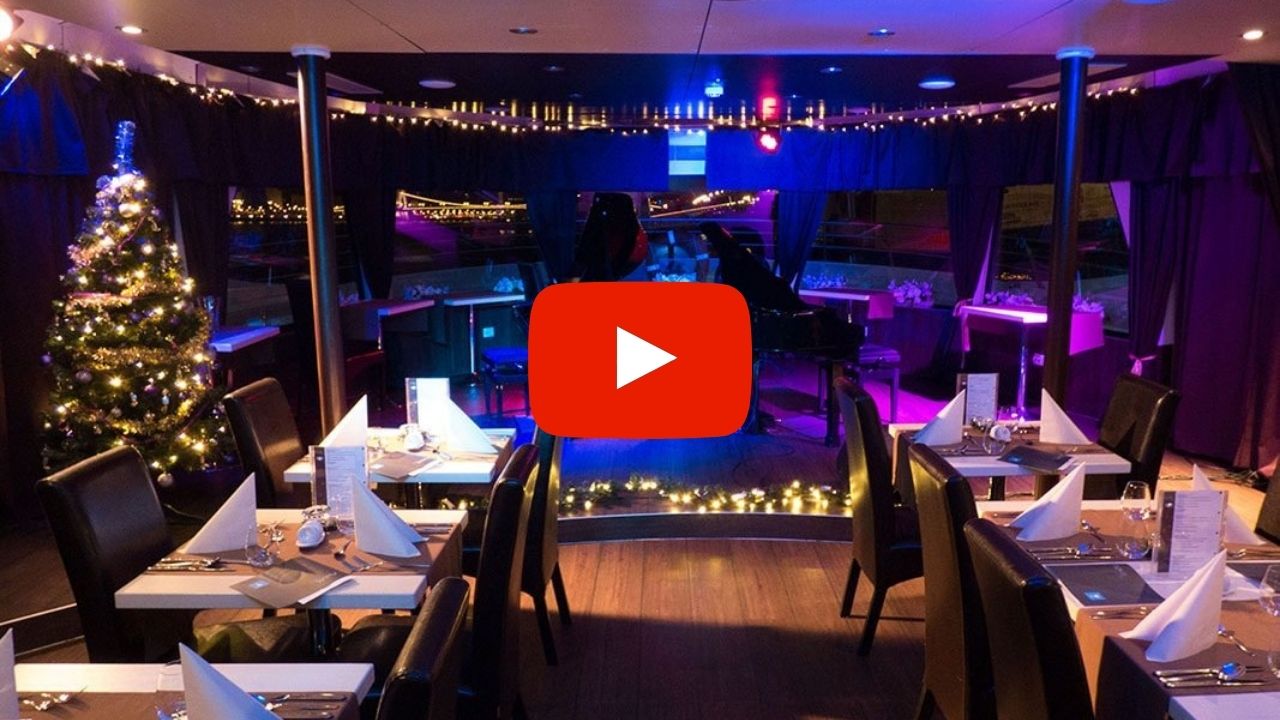 All the boat is "dressed up" for Christmas, soft piano music gently fills the air and with the night lights of the city sparkling in the background, you can even enjoy the best quality drinks of Hungary at candlelight. However, not only our boat is ready for the holiday!
From late November, the Hungarian capital city wears its 'Christmas costume'. Lots of streets receive silver or gold luminous decorations in forms of snowflakes, stars, pine trees, or any other nice symbols of the holiday. The historical buildings on the bank of the river offer always an imposing view; they are also common topics of postcards for tourist. However, they seem to be marvelous at night when they are floodlit.
While cruising on the river, you will have the chance to see a number of the capital's sights, including the Fisherman's Bastion, the Parliament, the eye-catching historic places of Buda – the Castle or the Citadel. Some of them, such as the House of the Hungarian Parliament, were built in the late 19th century and – according to the fashion of that age – they show the main features of multiple great periods of art history. Have you known that the Hungarian Parliament is the third biggest parliament in the whole world? Other buildings are really old. For example, the oldest stones of the Castle are more than 700 years! And, of course, we mustn't forget about the bridges. While on the river, you cannot miss the sight of the most beautiful – both old and modern – bridges of Budapest, which are breathtakingly elegant with all the festive lights on.
DRINK PACKAGE
Alcoholic drinks
Alcohol free drinks
Quality Hungarian wines
(From wines of different regions e.g.: Villány, Balatonfüred, Noszvaj)
Juice
Sparkling soft drinks
Champagne
(Sweet and dry)
Mineral water
(sparkling and non-sparkling)
Beer
(Staropramen, Borsodi)
Coffe
Tea
Christmas is just once a year! Spend on our Budapest Cruise!
We want to make sure we can welcome you on board of one of the Budapest Christmas Cruises, so there two days over Christmas available for booking – 24th and 25th of December. The Christmas cruise is the top event among our December Cruises with limited availability, so the sooner you manage to book yours, the better. So why won't buy your ticket today?
Hungarian cuisine is world-famous. The 4-course Christmas dinner served on board represents a great introduction to the Christmas specialties of Hungary, and of course, it is included in the price of the Christmas Budapest Cruise. You can enjoy a pleasant holiday dinner without long hours of tiring work in the kitchen… It sounds perfect, doesn't it? For a start, we offer either a salad with honey and mustard dressing or Buchées filled with cream and ruccola. Then you can choose goulash soup or tomato cream soup. Our chef prepares 6 main courses, so all of our dear guests can find the most ideal one.
There are veel, duck, or chicken; but, if you are a real explorer who loves trying new tastes, the trout or the vegetarian menu (tofu/halloumi cheese) won't upset you. Dessert is the perfect crown of a good dinner, so we provide flan or fruit salad if you would like to end the meal with a lighter course. We also think about guests with food intolerance or allergy. If you suffer from any of them, please contact us and we'll help you to find the perfect solution. Nowadays, presenting each other has become part of the holiday. We'd like to follow this nice tradition, so everyone on board at Christmas will get a special sweet gift, a little treat of "Szamos Marcipan". This little surprise will surely dulcify the minutes of waiting until the departure!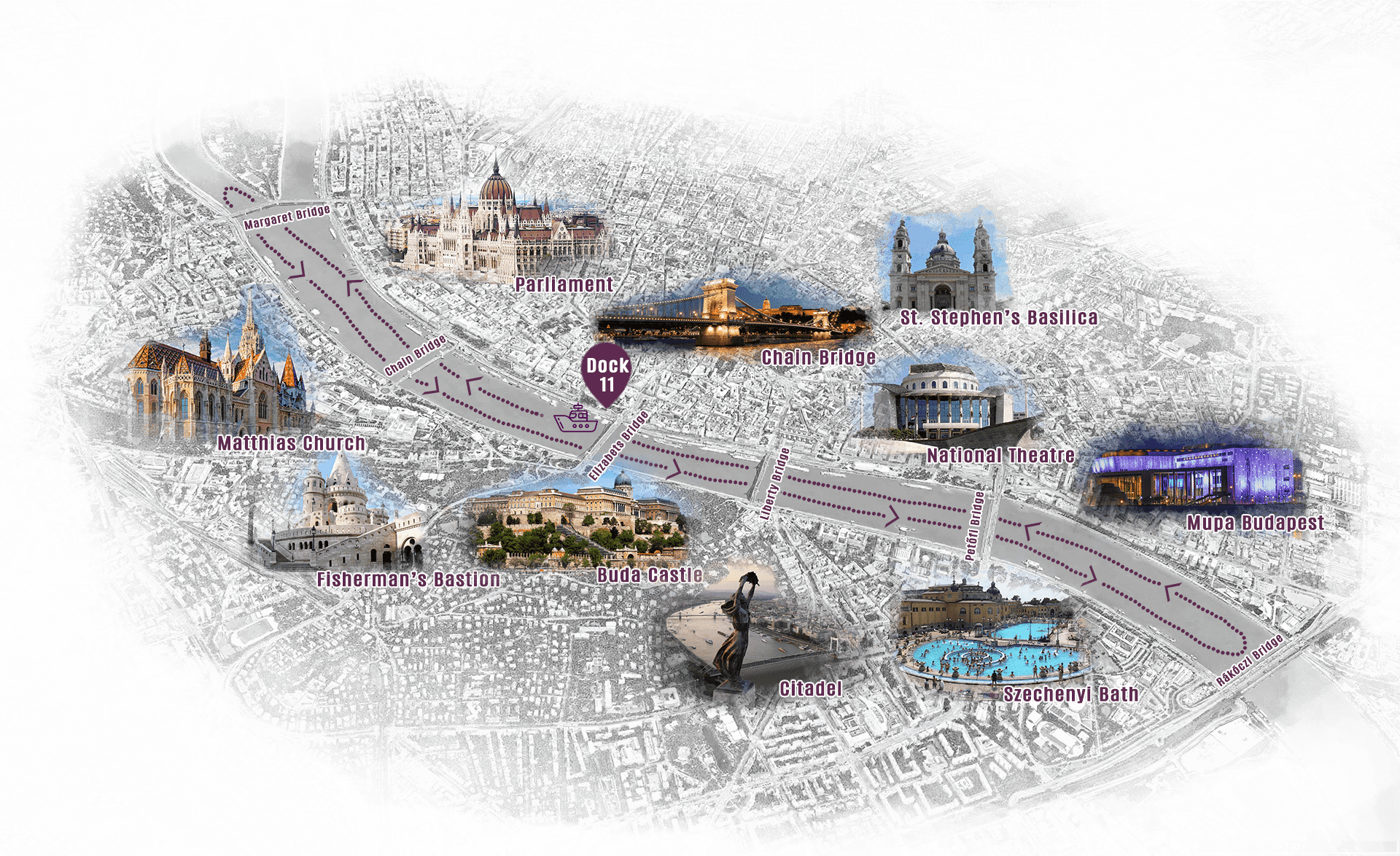 In this year, surprise your beloved one with an eternal memory besides, or instead of material things, and present them with our unique cruise! We ensure that all members of our staff will do their best to make your evening wonderful. You will have no other tasks than enjoying Christmas in the company of your family or friends. During this heart-warming trip, you can feel the real Christmas feeling better than in the crowded streets, markets, or stores.
Christmas Fairs are organized during the period of advent. Usually, Christmas Eve is the last day but if you're lucky, you can visit one of them in the morning or early afternoon on 24th of December. They offer a wide variety of products: you can find funny or cute mass products as well as exclusive hand-made craftworks. Naturally, food is also an important part of these events. Don't miss mulled wine, Chimney cake or pork sausages! In most cases, mulled and seasoned apple juice is also sold, in case of your children would be interested in mulled wine…
Make sure you do not miss this unique opportunity; this special Budapest Cruise at Christmas can be booked online. The Christmas Dinner has several options, you can choose a cruise with dinner only for just € 89 per person. It would be silly though not to have a glass (or more) of the best house wines this country can offer that are carefully selected to match each course of the festive Christmas dinner. You know: a good dinner doesn't exist without high-quality drinks - and of course good company. And Hungarian wines are famous worldwide! It's worth tasting them.
Not in Budapest at Christmas?
No problem. Visit the capital of Hungary at any time of the year, and you will still find a stunning variety of river cruises with Silverline. There are thematic trips at Eastern, Silvester, or on the 20th of August (a Hungarian national day), but there are several other ones during the whole year. Most of them contain cultural programs and/or meal or drinks. Please phone us or contact us via our website for more information!