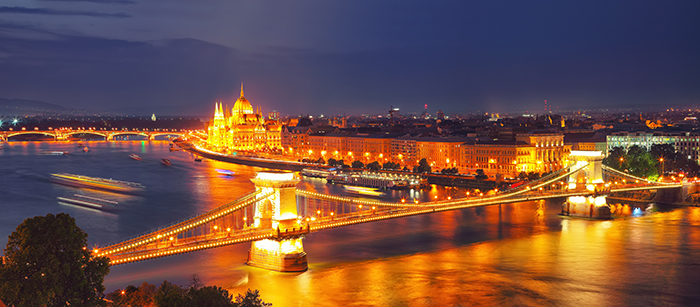 As Hungarian people like to say " The first day of the new year should be definitely filled with all the joy, healthiness, cheerfulness and of course happiness! " so in the spirit of this belief Hungarian people make their New Year's Eve happen in Luxury, Comfort and of course cloudless, quality entertainment.
If you plan to celebrate NYE in Budapest, come and join us on our luxury catamaran and let's celebrate NYE together with clicking the glasses at midnight in a beautiful environment, in front of the Hungarian Parliament.
This self-design, unique-built catamaran departs in the middle of the city for a truly special evening, a magical journey, to say farewell to 2023 and we won't stop until we reach the future in 2024. Do not worry, you won't be bored while floating on the river, watching the illuminated sight of Budapest and listening to the lovely live music and eating the delicious Hungarian dishes.
There are a huge variety of New Year's Eve programs in Budapest, from the wildest parties to the most elegant dining venues you can find a wide range of opportunities. With our programs we would like to represent the latter one since our Catamarans are perfect for quiet and romantic evenings as well, they will play a perfect role in the NYE celebrations across the River Danube.
If you are not really interested in a wild party, but you prefer to say goodbye to the previous year in a calm, elegant environment, we are looking forward to welcoming you on the board at New Year's Eve. We are sure our NYE cruise program offers an unforgettable experience for all of our guests.

What do we offer on our New Year's Eve river cruise Budapest?
Sightseeing from the Danube river during the whole night in the middle of the golden shining center of Budapest. Upon arrival, we welcome you with a cocktail and with that moment starts the evening, where you can just enjoy each others company and the feeling of going to the direction of a new, hopeful future.
And after midnight? Basically, this day is a fresh start, an absolutely new chapter in your life waiting to be written properly, to get the opportunity for all the dreams to turn into reality. How can we help to implement your goals? We offer you the best environment to enjoy this moment and of course, we use some ancient Hungarian practice to make sure the new year brings all the miracle you wish for.


Why are we sure, this night is gonna be an unforgettable evening for you?
Because there is no better way to spend the last hours of the passing year with your beloved ones on a unique New Year's Eve river cruise Budapest while being amazed by the illuminated Hungarian history all around you and listening to the professional pianists.
The dinner includes a delicious 5-course menu, a sparkling wine upon arrival and another glass of it at midnight to clink our glasses and welcome the hopeful future together.
As well as the special Hungarian menu at midnight which brings luck for the future based on Hungarian superstitions. Lentil soup means, as much as lentil you are able to eat, as much money you will earn in the next 365 days. Just like the traditional stuffed cabbage with the pork meat, which brings luck as well, since pork roots up the luck while in case of poultry, hens scratch backward.

Drink package
During the Budapest new years eve cruise, we have professional bars and bartenders on our catamarans, where they offer quality drinks even cocktails during the whole dinner.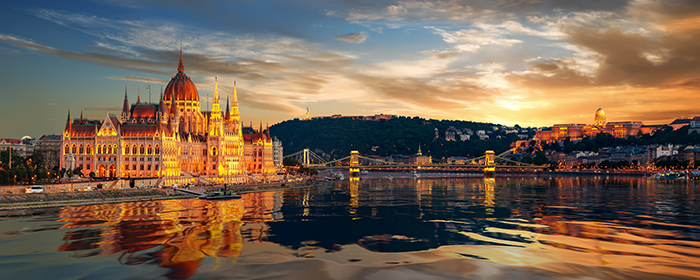 Pre-New Year's dinner and Post- New Year's dinner
You like cruising on the river but prefer partying on 31th of December? Or you already have plans for that evening but still, you want to try dinner cruises on the Danube? No problem, we have two opportunities for you since our Catamarans depart for dinner programs each day of the year. Join us for a pre- or post NYE dinner and enjoy a piano show with the professional pianists or a Hungarian folklore show with traditional dance elements.
Pre-NYE dinner
New Year's Eve is celebrated all around the world like it would be a must to go for a wild party and there is no problem with it since everyone does the same worldwide. But to be honest, it can be really calming to have a "real", quiet evening, as the last chance to say goodbye for the passing year, to summarize all the nice memories and prepare for a new beginning. This is exactly what we offer to you on the day of 30th of December, where you can have a last "average" dinner of the year in a romantic, but still unique atmosphere. Join one of our pre-NYE dinners and give yourself the chance to prepare and rest ahead for the big Farewell party for the next evening.
Post NYE dinner AKA first dinner of the year
The awaited New Year arrived with a long and loud party. Today the whole city is calm, just a few people are walking quietly on the streets. People can have the feeling this silence means the new year is bringing something magical that is still secret yet. The first day of the year has a typical atmosphere of waiting, and if you have a look on people's face, everyone has this unique smile: "the new beginning is here, full of new chances, let's celebrate quietly".
The big NYE party said goodbye for the past, and now is time to welcome the future with a huge smile, asking it to bring us fortune, health, wealth and so on.
Join us on one of our luxury Catamarans and welcome the new year in an elegant atmosphere, where you can enjoy not only the amazing views and delicious food but one of our new year welcoming live shows as well.