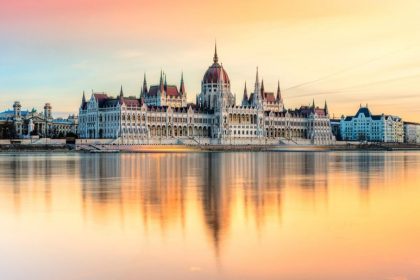 Budapest Sunset Times in April 2019
Most of the people would like to see a sunset in the wild, untouched nature, but only a few of them can travel to such a place. Anyway, a sunset on the waves of a huge river offer a very similar experience, and we can provide this adventure. Book our cruise, and enjoy Sunset Budapest today from the River Danube.
In April, there are several exciting programs in Budapest, and our cruise can easily match to any of them. Do you like cultural programs or are you a sporty lady/guy instead? Are you searching a good event for the whole family, or do you prefer having your free time alone? Whatever you want, you will not be upset. The choice of the different programs are amazingly copious, so every type of person can choose from them.
Although April is capricious, at this time of the year we know that spring is irretrievably has come. Usually Eastern is also in this month, so we can celebrate the resurrection of Christ and also nature. If you like festivals, we can recommend Budapest Spring Festival with lots of cultural programs. It always includes the Easter weekend. Budapest Easter Fair on Vorosmarty Square seems to be also an interesting program. There you can taste fine foods and drinks, enjoy free concerts, and also buy artisan gifts which are related to the Hungarian culture and/or Eastern. Are you interested in the topic of Eastern, but do you prefer museums instead of outdoor festivals? No problem! Then choose the special egg-exhibition in the Hungarian Museum of Agriculture, where you can watch several special and nice eggs. Even children will enjoy this program! Hungarian Folk Festival is another event which is worth visiting. Hungarian music is unique and the national costumes are really spectacle!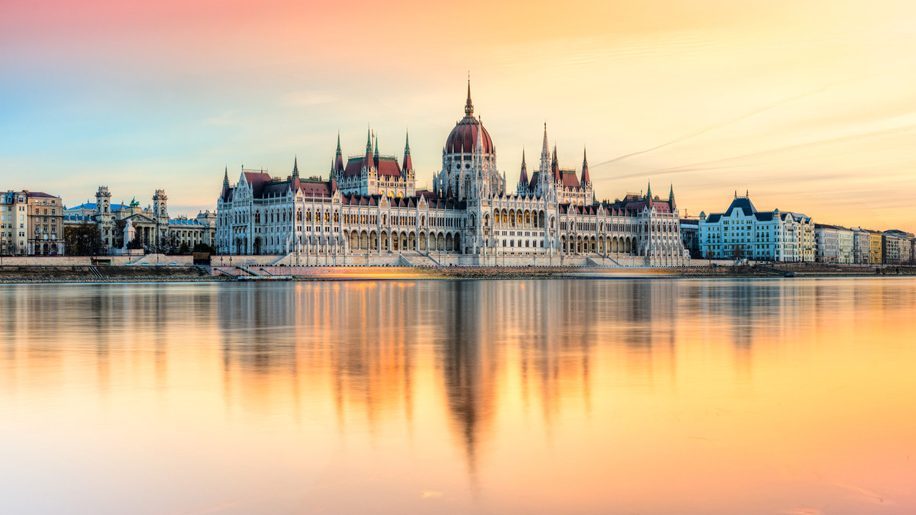 In the middle of the spring, squares and parks are full of flowers. The colorful flower beds are really nice spectacles! Let us recommend you a unique experience. It is a well-known fact that several people admire Cherry Blossom in Japan, and this event attracts thousands of tourists. However, in Budapest you can also enjoy a smaller version of this wonder of nature for two weekends: there are some beautiful cherry trees in the Botanical Garden (Fuveszkert). It is usually accompanied by cultural programs: you can visit concerts or get to know more about the Japanese culture via several exhibitions e.g. origrami or calligraphy. Sometimes these programs are interactive, so you can try your manual skills.
We cannot offer flowers, but the colors surely won't be missed if you choose us. After the adventurous day, finish the day with us, and spend a pleasant hour on our boat. Please relax and just let a million shades of the sunset amaze you during the Budapest sunset time. Our vehicles can also be rented with their professional staff, naturally.
Nature-fans will surely enjoy a great tour in Margaret Island which is beautiful in the springtime. Do you like trying new adventures? Book a segway-tour, and you can adore the natural and historical treasures of the island on the funny little vehicle. Let's visit the romantic promenades, the ruins of the medieval cloister, the little zoo, or the Japanese garden. You can have a rest by the fountain of the island and listen to its nice music. However, if you love sports, you can also try the special route for runners.
Our recommendations can surely prove that the life of the Hungarian capital city is exciting and busy in springtime. So it is worth discovering Budapest. If you have got tired during the several interesting programs, you can have a rest on the board of one of our luxurious boats or ships. Don't miss the Budapest sunset time in April, book our cruise immediately via our website or phone.
April 1 19:13:00
April 2 19:15:00
April 3 19:16:00
April 4 19:18:00
April 5 19:19:00
April 6 19:21:00
April 7 19:22:00
April 8 19:23:00
April 9 19:25:00
April 10 19:26:00
April 11 19:28:00
April 12 19:29:00
April 13 19:30:00
April 14 19:32:00
April 15 19:33:00
April 16 19:35:00
April 17 19:36:00
April 18 19:37:00
April 19 19:39:00
April 20 19:40:00
April 21 19:42:00
April 22 19:43:00
April 23 19:44:00
April 24 19:46:00
April 25 19:47:00
April 26 19:49:00
April 27 19:50:00
April 28 19:51:00
April 29 19:53:00
April 30 19:54:00