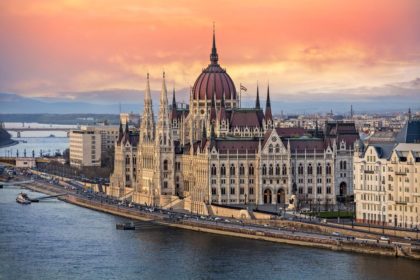 Sunset times in October in Budapest, be prepared for your holiday!
We usually consider spring the most colorful time of the year because of blooming. However, autumn also can offer several colors. Think about the thousand shades of red, yellow and brown of the leaves! If you would like to enjoy nature but do not want to leave the city, let's visit any of Budapest parks or take a huge walk on Margaret Island. If you got tired of the long trip, you can have a rest on the board of one of our ships to give a rest to your feet and visit the attractions of Budapest on the Danube river. Naturally, we can't offer leaves but many various colors can be truly provided. You need not do anything else than booking one of our sunset cruises and enjoy the amazing performance of the setting sun.
Besides our trips on the River Danube, we can recommend several interesting programs, too. If you are interested in special branches of arts, we suggest the World Press Photo Exhibition. We think that you will also enjoy Budapest Design Week which is usually organized in multiple venues. You can take part tours given by art historians or visit fashion shows. The topic changes from year to year.

Gastro-fans will surely love this month! You can taste some specialties of Hungarian cuisine on several festivals such as Palinka & Sausage Festival or Chimney Cake Festival. Palinka is a traditional Hungarian fruit brandy, while Chimney Cake is a sweet yeast dough. It is a spit cake which consists of flour, icing sugar, salt, yeast, eggs, milk, and butter. So it's sweet yeast dough. While you are tasting dishes made of pork on the Sausage and Pork Festival in the Train History Park Budapest, it is worth watching the exhibitions of the park, too. Not only railway-fans can enjoy it! Octoberfest is originated from Germany and it is a huge celebration for beer-lovers. Anyway, a similar event is also organized in Budapest. It is an excellent program for the weekend. You can try delicious craft beers and specialties like christened Friar Tuck, Buckwheat Lager, Bitter Honey beer, or Black Sheep.
In October, days are becoming shorter and shorter, and evenings are often cold. But do not worry! You can calmly choose our sunset cruises either as the ending of your day or as the prelude of your exciting night because we have got enclosed spaces on our boats and ships, and our vehicles are heated, too. Here is a list of all the sunset times of Budapest in 2019. During a cruise, you can just relax and adore thousand shades of the sunset or take photos. However, if you organize an important family or official event, and you are looking for the perfect site for it, you have also found the ideal solution! Our luxurious ships, the sunset times in October, and the representative panorama of the city offer an excellent background for every important moment. Our professional staff is ready to satisfy any kind of requirements, too.
Once we have written about railways above, we must mention the Internation Model Train Engineering Festival here. Do you love trains, vintage vehicles, and everything else which is in connection with railways? It is a must-have program for both people who making models themselves and others who are only interested in the topic.
Do you like American culture? Or do you just like things which are frightening and fancy at the same time? If you do, visit the Halloween Festival which includes lots of various events such as parties (even a cool pool party) or workshops for kids, or other programs ideal with kids. Costumes are not compulsory but we recommend them – believe us, they enhance the feeling very much!
If you are looking for a unique program in October, choose us! Or are you hesitating, when to visit Budapest? Do not miss this experience and contact us via our website or phone, book a cruise and enjoy sunset times in October.

| | | | |
| --- | --- | --- | --- |
| Date | Sunset time | Date | Sunset time |
| 1st October | 18:24 | 17th October | 17:53 |
| 2nd October | 18:22 | 18th October | 17:51 |
| 3th October | 18:20 | 19st October | 17:49 |
| 4th October | 18:18 | 20nd October | 17:47 |
| 5th October | 18:16 | 21rd October | 17:45 |
| 6th October | 18:14 | 22th October | 17:43 |
| 7th October | 18:12 | 23th October | 17:42 |
| 8th October | 18:10 | 24th October | 17:40 |
| 9th October | 18:08 | 25th October | 17:38 |
| 10th October | 18:06 | 26th October | 17:37 |
| 11th October | 18:04 | 27th October | 16:35 |
| 12th October | 18:02 | 28th October | 16:33 |
| 13th October | 18:00 | 29th October | 16:32 |
| 14th October | 17:58 | 30th October | 16:30 |
| 15th October | 17:56 | 31th October | 16:28 |
| 16th October | 17:54 | | |