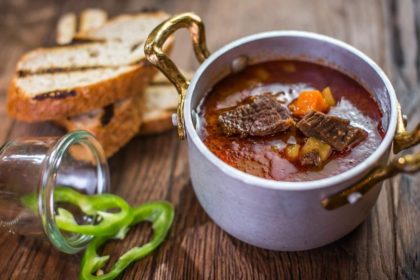 Are you interested in trying the special Hungarian fish soup?
The culture of Hungary is very diverse from their flag to their beloved specialties and traditions. They are famous for their iconic and inviting national dishes like Fish soup. Hungarian cuisine offers many variations, which can be great discoveries beside Hungarian traditions for many travelers to the country.
Hungarian cuisine has an important part of its culture. One of its basic ingredients is called "Magyar kenyér". This white type of bread has an inevitable role in their rural and urban cuisine. This ingredient is necessary for some dishes; otherwise, we will not enjoy the tastes of – for example – the goulash soup.

Hungarian national dishes consist of more than one course. Our first course contains some soups, for example, Chicken soup with "csiga" noodles and as a tradition, it is also served at weddings. Goulash has a great reputation from the Hungarian culinary repertoire. Although more than one varieties of goulash exist, the original one is somewhere between stew and soup with beef (in most cases pork or veal), potato, carrot, spices, and typical paprika.
Let's continue with the Fish soup, because it also has a prominent place among Hungarian national dishes. It is cooked in a kettle over an open fire. It is mainly cooked with river fishes, including catfish, perch, pike or carp. A great amount of paprika is also needed, and it gives the typical bright red color to our soup. As far as we know, those restaurants offer the best soups which are located near water. This places knows perfectly how to amaze local people and tourists.
Of course, a great course is not the best without adequate chaser. Here it is necessary to mention "Pálinka" as a real prestigious Hungaricum. Pálinka is an ancient beverage of the Hungarian society. Even though it is consumed many parts of the world, the ingredients can be different in each country. The well-known and tasty Pálinka is said to be made of fruit, which are uniquely luscious. This can be the reason why Hungary is one of the best places to make Pálinka, due to its exceptionally suitable plains. If you think, that you should taste something else, Aszú wine from Tokaj can be a good choice. It is a sweet- dessert wine from Hungary's famous wine region, Tokaj. According to its essence, it is one of the sweetest and one of the most exclusive white wine in the world.

For the second course, we consume meats with rice, potato or salad but here we can also notify some specialties. One of the most favored meats is pork. According to it, we have a festival, which is named for a type of pig found in Hungary. It is held at Vajdahunyad Castle and the exact name is 'Mangalica fesztivál', which is a celebration of Hungarian food. We also have some popular pasta like noodles with cottage cheese and bacon or special pancakes, including Hortobágy pancakes filled with ground meat, onion and topped with sour cream. Pastoral Beef stews are also wide-spread, just like chicken paprika with sour cream or stuffed cabbage in a creamy paprika sauce, often served with sour cream and of course, white bread.

As for the third course, we can offer long lists of delicious desserts. We would like to start with special sweet cylinder bread made from sweet yeast dough baked over charcoal and coated in plenty of sugar. It is called "Kürtős-Kalács". It is often rolled in cocoa, cinnamon, nuts, vanilla or coconut. As a tradition, it is sold at festivals, national occasions, and outdoor events.
Another delicious dessert is the Hungarian strudel, called "rétes" which is a log of pastry, stuffed with cherry, apple or poppy seed. One thick slice of it with a cup of coffee and your afternoon will be perfect! Here we could also offer, "Dobos torta", which is a favored and popular cake in confectionaries around the country.
Biscuits are also like as a third course because we not only like sweets but snacks as well. In this case, Pogácsa is very popular. As a tradition, it is consumed at family occasions, weddings or wine tastings. If you don't have time to bake a home-made one you don't have to worry, because this snack is available everywhere around the country and confectioneries offer the best of it. There is no ultimate recipe of it because everyone flavors it differently. However, the traditional pogácsa consists of potato, buttery and cheesy.
All in all, we would say that Hungary offers many types of delicious and fascinating tastes, not even mentioned its culture and tradition. Everyone should try them because the iconic list is infinite. If you taste our dishes, you will get an unforgettable experience of gastronomy.