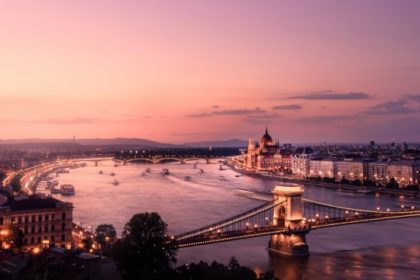 December is the most attractive month
December isn't simply the last month of the year but also the month of Christmas! Every child and lots of adults are longing and preparing for this holiday for weeks (advanced 'competitors' even for months). Many of us would like to find the perfect present for our beloved ones. We acknowledge that objects can make much joy, but presenting some adventures is an absolutely higher level! A nice memory cannot be lost and its owner will surely not get bored of it. Choose one of our sunset cruise if you are seeking for a great experience instead of an object, and we guarantee that you won't be upset at the end of the day! Just relax and let sunset in December to enchant you.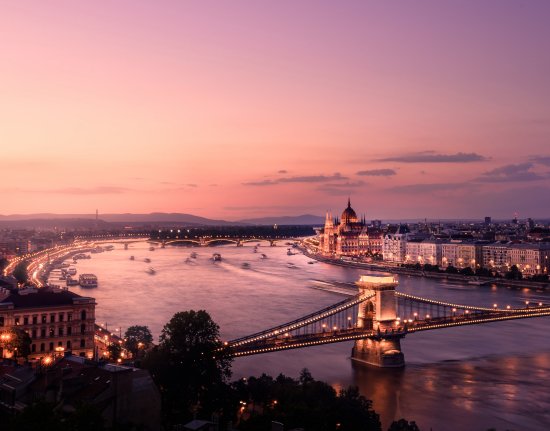 If you'd rather buy some palpable memories, too, don't miss the Christmas Market in Budapest. It's one of the most traditional Christmas fairs in Europe, and it's organized in two major places. One of them is found on Vörösmarty Square and the other one is in the near of the St Stephen Basilica. You can buy traditional presents from talented craftsmen, but you can also find books, modern toys, or clothes. If you feel hungry, let's taste pork sausage or Chimney Cake which is a traditional Hungarian winter dessert. Of course, mulled wine is another must-have item of Christmas fairs.
Night lights of Budapest are amazing in each month. But in December, during the Advent season, they are marvelous! Winter nights come early but you won't be depressed by dark hours because wherever you go, you can adore the colorful lights on the buildings, trees, or even the vehicles of public transport, just like tha famous tram number 2. The imposing historical buildings of Budapest on the bank of the River Danube are also lit up, and the river – due to the waves which reflect lights – enhances the wizard experience. If you get tired of walking in the fairs or if you do not find the "Merry Christmas" – feeling, our cruise and the lights of Budapest will help you!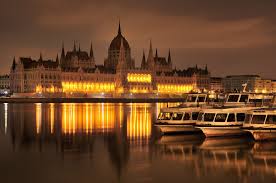 Sport-fans are recommended to visit City Park. We know that an average park is not too exciting in the wintertime but there you can find a perfect rink! Actually, it's a boating lake during summer and warm months of spring of autumn. In winter, it turns into an ice rink, and skaters love it! Don't think that it is a small thing – in 2012, the European Speed Skating Championship was organized here!
If you're interested in fashion, Stylewalker Night is a promising program. It's a design event, during which many boutiques stay open still midnight. You can not only go shopping but also have a chance to meet and talk to your favorite Hungarian designers!
Between two interesting programs, our sunset cruise is a great option. You can have a rest for 75 minutes, while you can adore the performance of lights both the bank and on the waves, than you can continue your sightseeing tour with a walk up to Gellért hill, to adore the panoramic view of the city as well.
Sunset times in December:
| | | | |
| --- | --- | --- | --- |
| Date | Sunset time | Date | Sunset time |
| 1st December | 15:55 | 17th December | 15:53 |
| 2nd December | 15:54 | 18st December | 15:53 |
| 3th December | 15:54 | 19nd December | 15:54 |
| 4th December | 15:53 | 20rd December | 15:54 |
| 5th December | 15:53 | 21th December | 15:54 |
| 6th December | 15:53 | 22th December | 15:55 |
| 7th December | 15:52 | 23th December | 15:55 |
| 8th December | 15:52 | 24th December | 15:56 |
| 9th December | 15:52 | 25th December | 15:57 |
| 10th December | 15:52 | 26th December | 15:57 |
| 11th December | 15:52 | 27th December | 15:58 |
| 12th December | 15:52 | 28th December | 15:59 |
| 13th December | 15:52 | 29th December | 16:00 |
| 14th December | 15:52 | 30th December | 16:00 |
| 15th December | 15:52 | 31th December | 16:01 |
| 16th December | 15:53 | | |
There are lots of cultural programs, too. Classic concerts there are in the St Stephen Basilica or in the Mathias Church, and theaters perform the Nutcracker from year to year. Sometimes they are especially for children – and this heart-warming story is a good chance to introduce them into the world of the theatre.
Besides Christmas, we mustn't forget the other holiday: New Year's Eve. You can book a table in a fancy bar or a more intimate pub or restaurant. Booking well in advance is worth because these places are usually full on the 31th of December. You can find thematic parties with special music or even costumes such as during the carneval. For example, retro parties are really popular – and absolutely not only among the older adults! However, if you're longing for a less official kind of party-feeling, you should stay in the crowd on the squares of Budapest.
At midnight, there're spectacular fireworks. Do you want to enjoy it but you don't prefer suffering in the middle of the crowd? We know the ideal solution! During our New Year's Eve Cruise, you can adore this colorful program without noise and crowd in an elegant river cruise, and we also offer some extra music programs besides this.
Don't seek the perfect night program any more.
Choose sunset Budapest today, and we make your and your beloved ones' eve unforgettable!