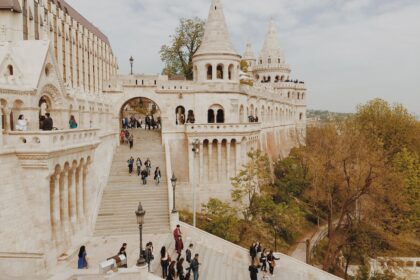 Budapest Capital of Hungary provides many cultural and entertainment programs for visitors. But what are the experiences that you should not miss here? The following paragraphs answer this question.
If you visit here, the Várkert Bazár, which is located in District I is definitely a special attraction. This is not only a fairy tale historical location, but also hosts different programs. So before your traveling, it is important to see if you will be lucky and participate in a special program. Every month has its own charm so it will surely be impressed.
Whether it's summer or winter, Városliget is always a good choice. During the warm period, it is home to a lake where they can ride a water bike and admire the fountain. And in the cold, you can find a huge skating rink in its place, which is a really unforgettable program. In addition to these two main events. We can drink a delicious cocktail can taste one of the Hungarians' favorite foods the chimney cakes. While our kids jump good at the trampoline park or swing on one of the biggest playgrounds. In addition, of course, it also hosts a historic location so we can admire the Vajdahunyad Castle, which often gives a place to different events, even the Castle Garden Bazaar.
We do not have to go far from the City League a few minutes from Hősök Tere and the Zoo. Both are a fantastically special program for a child or adult. In fact, we can only find the Hungarian big circus for a few minutes for the little ones. Let's visit any of these will surely give an unforgettable experience.
Perhaps one of the most strange things in Budapest is the Danube itself. It separates Buda and Pest. Hungarians and tourists also love to walk and enjoy the Danube and the city on the quay and more beautiful bridges. What could be better … What would you say if you could do it all while a soft piano melody was in the background and eat a delicious dinner? Silverline's ships show Budapest's sights in luxury conditions in the Danube. Of course, child -friendly so the family's favorite will have an unforgettable experience while getting to know the various historical attractions. This is a program that you can see the most from Budapest. If only one event can fit into the time, be sure to do so. After all, whether it is a romantic or family trip, this will be a favorite for everyone.
The downtown of Budapest is home to many special buildings so let's take a look here. Many fantastic programs await visitors who can try themselves in a liberating room or sit down on the giant ferris wheel where you can admire the illuminated city from 65 meters. In goodweather, one of the favorite programs of the Pest youth is to go to the Margaret island with a bottle of wine and admire the Danube and Parliament.
If we are open to a little further program, you should definitely try Zugligeti, as it provides wonderful views of visitors and is one of the most popular programs for kids. We can see a similar but much smaller one than Elizabeth Lookouts if we want a closer solution.
Choosing any option here in Budapest will guarantee an unforgettable experience for you and your family.