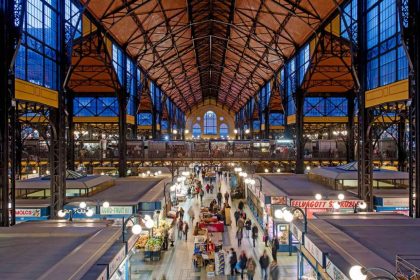 Eat a traditional Hungarian food in the Great Market Hall in Budapest
Budapest as a metropolitan and capital city owns a wide range of stores, shopping malls, supermarkets and, of course, big markets. The Great Market Hall in Budapest is an old, large and expansive place, which is favored by many consumers because it has an infinite supply of products.

Great Market Hall
is not an average place where you can only buy goods for daily needs. It is also known as Central Market Hall Budapest. This special place is located at the Pest end of Liberty Bridge to combine shopping with sightseeing. You can see beautiful and spectacular buildings and monuments like Buda Castle or Gellért Hill during your journey. It is always better to do your shopping in a cozy atmosphere. Best markets in Budapest Hungary are not only liked by locals, who have the ability to do their everyday shopping but many tourists as well. One of the reasons why tourists love this Great Market place is the many types of special Hungarian souvenirs which are offered. This place is also the best to browse among stalls and counters, pick up some exotic spice or quality meats including pastry or salami but other cold cuts, cheese or bread can also be found there. It contains perfects sections for culinary lovers because many street food vendors are available. If you feel that you are lost you can buy or browse a guide book, which writes down all the useful information in connection with food tours or guided tastings, not even mentioned the history of Market Halls and traditional Hungarian recipes. It is a central fresh-food market where you can also buy clothes, bags, gifts or flowers and the best fact is that the entry is free.
Got hungry during sightseeing? Try one of the traditional dishes on the top floor and enjoy the taste like locals do. Langos is one of the most famous Hungarian food, but if you are a sweet –tooth type, than pick one of the delicious Chimney Cakes and share it with your beloved ones.
But you have more chances to buy what you really need. Budapest has more good quality markets like Downtown Market Hall, which is located in Hold Street. It is very similar to the Great Market Hall, so you will not be disappointed.
If you want to visit some of these markets, you do not have to deal with bad Budapest weather conditions, which is also very favorable. As some of the halls are covered with a roof, you can visit them on rainy days as well.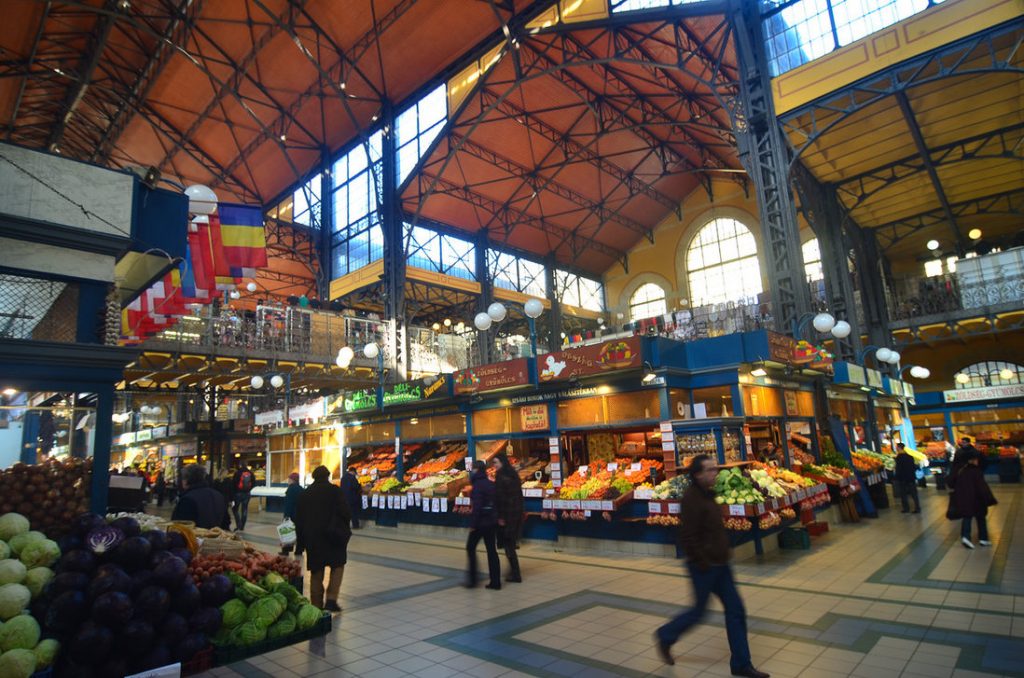 Markets are the best places to spend your time rich because they are full of smells, flavors, and sounds. Some other markets are, for example, Fény Street Market, are definitely worth visiting if you need quality ingredients for your dishes. Here you can buy fresh vegetables and fruits from small producers' tables. It is located near the Mammut Hall which has a very good reputation. Rákóczi tér Market is also a good place because it has the same offering and you can be surrounded by many pubs, cafés or bars if you feel thirsty. If you really want to visit a colorful kitschy modern building you can visit the Lehel Market Hall, close to West End Shopping Mall, which is favored by youngsters and Hungarian celebrities.
Are you a seafood lover? Budapest also offers you the best places to eat fish or other seafood. We own good fish markets like The Büdaörsi Halpiac, (in English 'The Fishmonger') which is for real gourmets only. Fresh fish and seafood are brought from the ports and markets of Spain, New Zealand, Sri Lanka, Greece, and Norway. Not only fish is available, but clams, spices oils, and chaser (quality wine) as well.
All in all, Budapest is famous for its market halls, selling fresh and delicious products, and a range of Hungarian arts and crafts, not even mentioned the fact that both indoor and outdoor designs can be found, so you don't have to worry about the weather. I am certain that you will find everything in one place at reasonable prices, and you will be satisfied at the same time.