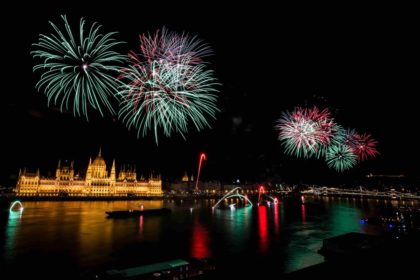 National holidays are an important part of the Hungarian culture
HUNGARY is not just famous for its widely-known, delicious Hungarian cuisine, but for its hospitality and great celebration atmosphere on holidays. What are the most remarkable public holidays in Hungary? Let's look at them in details.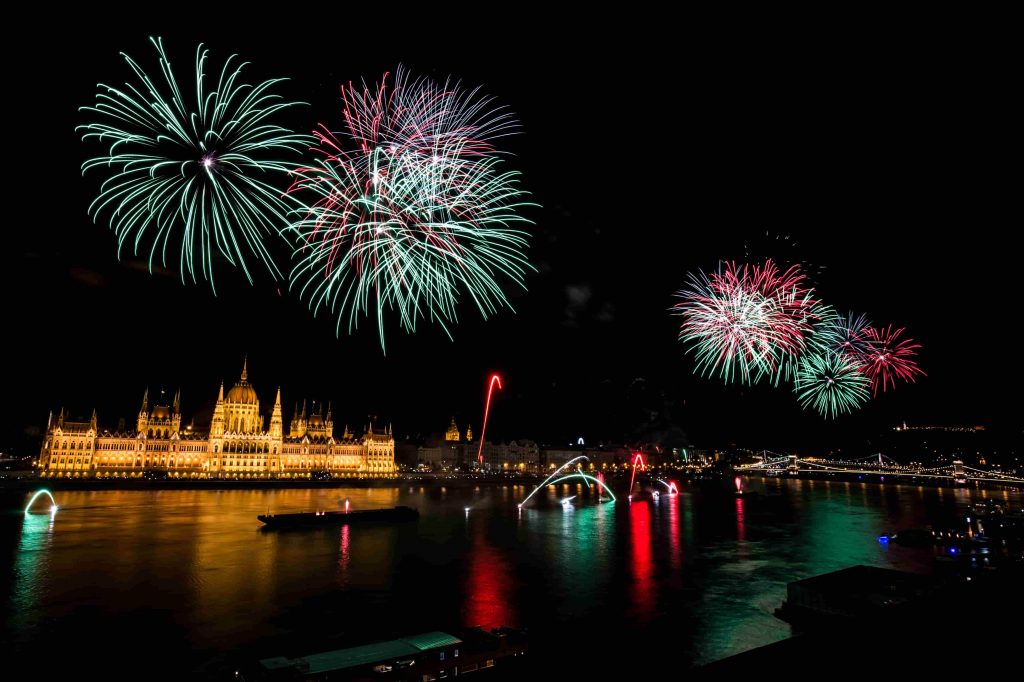 New Year's Day – 1st January
Holidays to Hungary? Looking for a memorable celebration of the New Year? Do not hesitate, choose Hungary. This day is about touching VFR tourism (Visiting Friends and Relatives) and extraordinary party time on one occasion. Of course, the day commences at midnight singing the national anthem and drinking champagne. Active people usually attend to parties, either a house party or street festivals (link ide a blog nevével mehet:Top 10 places where to celebrate NYE)– the biggest ones take place in the capital, Budapest with spectacular shows, DJs and mouth-watering cocktails. The typical dishes are lentil soup and pork which based on superstitions bring luck, wealth and fortune for the coming year, and by the way this is the midnight menu on our New Year's Eve Dinner Cruise as well, where you can welcome the new year in an exclusive, elegant environment right in the middle of the Danube.
Memorial Day – 15th March
This is one of the historic holidays in Hungary when citizens commemorate the Hungarian Revolution and War of Independence of 1848-49. The main event is held in Budapest at the Hungarian National Museum. People generally wear a so-called 'kokárda' (rosette) with the colors of the Hungarian flag attached to their coat above the heart. Young revolutionists wore this and after the war it has become a symbol of independence. There are ceremonial speeches delivered in each big city with processions.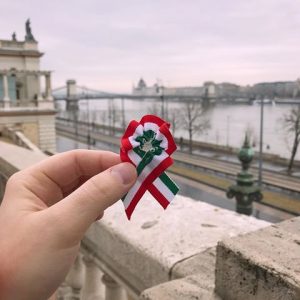 Good Friday
Good Friday has become a public holiday since 2017. Followers of the Roman- or Greek-Catholic or the Reformed Church take part in Holy masses where they can hear about the Crucifixion of Jesus Christ and his message to his forthcoming generations. Many Christians, therefore, abstain from eating meat on this day to perform some penance for their sins.
At Easter the Resurrection, that is, the rising of Jesus from the tomb after 3 days after his Crucifixion, is celebrated. Both Easter Sunday and Monday are national holidays in Hungary. Many customs and traditions surrounding Easter in the Hungarian culture are about celebrating the birth of nature and spring. Most Easter traditions in Hungary are associated with Easter Monday. Boys set out to call on their female relatives and friends and sprinkle them with water or perfume. They even tell funny poems during the sprinkling process. Girls, in return, treat them with home-made cakes and present them with hand-painted eggs. Besides, it is advisable to taste a typical Easter Sunday lunch which consists of mostly smoked ham and hard-boiled eggs but of course based on family traditions people prepare many dishes which are part of the Hungarian cuisine.
Labor Day
This is a spring holiday, as a matter of fact, the International Day of Labor when Hungarians often relax at home doing barbecue or cooking in a cauldron outside. The morning time is also famous for a tradition performed by men. Men in love bring a branch of a tree to their beloved one's garden, fix it to the fence and decorate the branch with ribbons of different colors. In this way they express their deep love towards their girlfriends and also surprise them. In the evenings there are street festivals held with concerts and shows.
Pentecost Monday
The Monday following Pentecost is a public holiday in Hungary like in many other European countries. It is a Christian feast, celebrated seven weeks after Easter, commemorating the descent of the Holy Spirit. Hungarians usually stay at home and relax or visit relatives and have a good time sitting outside on the terrace while chatting.
This is the feast day of King Stephen I. On this Hungarian public holiday citizens commemorate the founding of the state more than a thousand year ago. Day-long festivities are held in every city with street vendors, buffets with street food (lángos, hurka, pörkölt etc.), handicraft market and a half-hour fireworks displayed on the bank of the Danube in the evening. It is amazingly spectacular; many people watch it on both sides of the river and rooftops of Pest and Buda. We offer on that day a special firework dinner cruise even with folklore show and with live pianos show for those who want to watch the lightshow in a unique atmosphere, right in front of the Hungarian Parliament.
National Day – 23rd October
This is also one of the historic holidays in Hungary; people celebrate the declaration of the Hungarian Republic and commemorate the revolution of 1956. There are ceremonial speeches delivered by the given city's mayor at the city's Town Hall or main square.
All Saints' Day – 1 November
It is an important day for Hungarians when the whole family comes together and drives to the local cemetery to commemorate their passed relatives. People bring beautiful wreaths and flowers, light candles on the tombs. The cemetery looks the most gorgeous after 6 p.m. when thousands of candles are flickering in the gloomy night.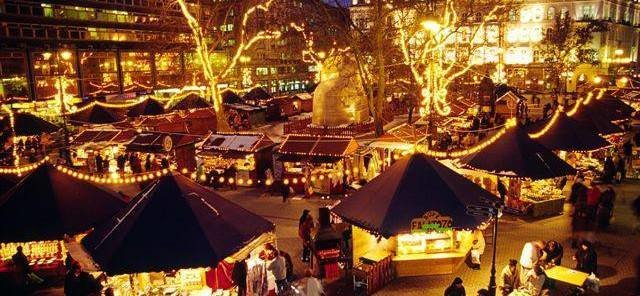 Christmas -25th and 26th December
Celebration day of the birth of Jesus Christ, is also a significant holiday in the life of Hungarians. A week before Christmas, carol singers appear in the streets to announce the approach of the festival. A beautiful crib is set up on the main square of each town displaying the birth of Christ. On Christmas Eve family members decorate the pine tree together and surprise each other with presents. 25th December, the first Christmas Day usually starts in the church where Christians can watch a nativity play performed mostly by children. Then extended or nuclear families gather around the table to partake of the traditional Hungarian Christmas lunch. Two things are essential parts of this meal: stuffed-cabbage or fish-soup and poppy-seed cake, also called beigli. In case you prefer to celebrate Christmas in en exclusive environment, you are welcome on our Christmas dinner Cruise specially prepared for this unique event.
As you can see, you can never have boring moments on national holidays in Hungary. Even though, do not forget, most shops are closed at this time and metro, buses are on holiday schedule.