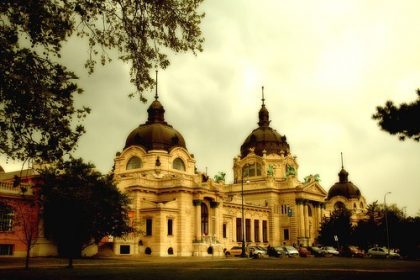 The first medical bath in Budapest
Budapest is called as the City of Baths since there are 11 of Thermal Baths in this city including strands as well. The most famous Thermal Baths are in alphabetic order: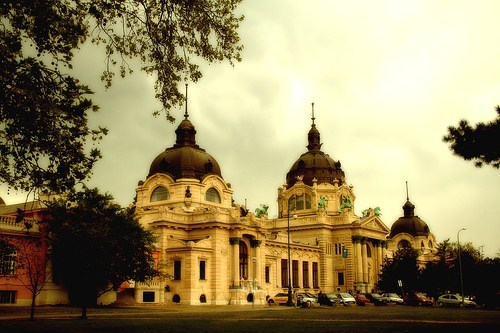 Dandár Baths
Király Bath
Széchenyi Bath
Are you longing for a relaxing treatment and spa experience in a Budapest thermal bath? Choose one of the largest bath complexes in Europe with its 21 pools, the Széchenyi Spa and Thermal Bath. Probably you have heard that Budapest, or Aquincum as the Romans called this settlement, is the 'city of waters' thanks to its many thermal water springs and medicinal thermal baths. Széchenyi Bath was actually the first medicinal bath, which has improved a lot in the recent century adding special health and wellness services, sauna séances, gymnastics, aquafitness and so on to its modern service range. Moreover, this communal thermal section and day care clinic for complex physiotherapy offers relief for patients with locomotive, gynecological, gastroenterological and circulatory disorders, not to mention the famous mud package treatment and underwater traction bath.
Széchenyi Bath´s history
Around the 1880s it was to be called the Artesian spa (Artézi fürdő); although at the time of opening on 16 June 1913 the name proposal was changed to Széchenyi spa (Széchenyi gyógyfürdő) after István Széchenyi, one of the greatest statesmen in Hungary's history, who gave his name to the first permanent stone-bridge called Chain Bridge as well.. The original architect, Győző Czigler, designed it in Neo-Baroque style; although the designs of Eugene Schmitterer were also added to it in 1909 when its construction began. The total area covered was 6,220 m2, and the cost of pool construction was about 4 million Austro-Hungarian korona.

As a surprise, over 200,000 bathers tried it in 1913, and it was increasing dramatically afterwards. At the beginning there were private baths, separate sections for men and women (Like Rudas Bath still has non-coeducational days to separate men and women). In 1927 with 3 new outdoor and 15 indoor pools it reached its current size, and today it is allowed for both sexes to enter the building's all sections. Only one obstacle arose after the expansion: the larger volume of water needed couldn't be supplied by one well; therefore, another well had to be drilled. The new thermal spring was found in 1938 with a temperature of 77 °C. As a matter of fact, it gives 6,000,000 liters of hot water every day. Around the new century, between 2000-2010, this amazing Budapest thermal bath was completely refurbished.
About its service, contact
First of all, it is important to mention the opening hours of this thermal bath of Budapest. It has quite long opening hours, every day from 6 a.m. to 10 p.m., except the pump hall which opens at 9 a.m. and closes at 5 p.m. from Monday to Saturday. By car you can park around the City Park, by public transport take the trolley bus nr. 72 and the millennium underground train.
There are three main categories of services:
Spa
Medical
Conference and other services
On weekdays 15, on weekends 18 indoor and outdoor pools are available, with jacuzzi, whirlpool, steam chambers, saunas, and massages such as treatment with Hungarian wines, with Kolop medicinal mud, with Mátra mountain herbs etc. For request, there are safety lockers, sundecks, bathing suits or even towels available.
Regarding medical services,
guests can choose from drink therapy, balneotherapy, private tub-bath, mud treatment, weight-bath, underwater jet massage etc. – the last three are only available on medical prescription. Other services include gymnastics in the bath's own fitness center, aquafitness, Thai massage, cosmetics, a restaurant etc.
Of course, if you are a souvenir collector, you can buy some nice knick-knacks in the spa's souvenir shop for your friends and relatives. For special events like cocktail parties, weddings or corporate events the so-called Marble room can be rent. Its capacity depending on the number and size of equipment is between 150-200 persons. It offers an elegant, renaissance environment making it a special venue for all occasions. Of course, the usage of spa can be incorporated into the conference package.
Come and gain experience personally either as an individual or as a member of a team-building event in this fascinating Budapest thermal bath.