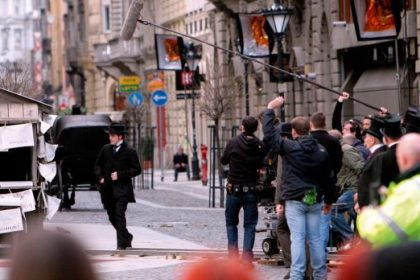 Hungary has long been a popular destination for foreign productions. Budapest has hosted a great number of international film productions, and scenes from several films have been shot here.
Costs are relatively low in Hungary; wages are much lower than in any Western European country. On the other hand, Budapest is a beautiful city and it retained its buildings from different eras, which are suitable for displaying any major European city.
Some of the most famous movies that were shot in Budapest: Evita (1996), I Spy, (2002) Underworld (2003), Munich (2005), Transporter 3 (2008), Mission Impossible – Ghost Protocol (2011), Die Hard 5 (2012), World War Z (2013), Spy (2015), Inferno (2016), Gemini Man (2019).
Many popular Budapest locations are featured in world famous films. For example, Madonna made an appearance at the Gellért Hotel and Baths, while filming Evita, and I Spy starring Eddie Murphy and Owen Wilson, was also shot in and around the building. Four Seasons Hotel Gresham palace is a popular accommodation choice for celebrities and film moguls while filming in Budapest. The Phantom of the Opera (1998) takes place in Paris, but was shot in the Hungarian State Opera House and Steven Spielberg's film Munich as well. Transporter 3 starring Jason Statham, had a few glimpses in the House of Parliament and St. Stephen's Basilica. The 2013 blockbuster A good Day to Die Hard was filmed in and around Budapest, Heroes' Square was used quite extensively in the movie.
Many film factories probably come here because there is a huge newly built studio, the Korda Studios, located in Etyek, which is a small town in Hungary. Korda Studios is a complex of film studios since 2017. Its' name is from Sándor Korda, a Hungarian film director and producer. The film studio consists of six studios, and there is a 5,975-square-foot studio, that is the largest such structure in the world.
If we talk about movies, we must mention Andrew Vajna, a world famous film-producer, a television owner, and reformer of Hungarian film production. He moved to America when he was a child, where he became a famous film producer and had a lot of amazingly successful films, and even several Oscar-winning works. Terminator 3: Rise of the Machines (2003), he and Arnold Schwarzenegger were really good friends, they made the Terminator sequel, which had been a cult film by then, together. During the filming of the Rambo films, they also made a lasting friendship with Sylvester Stallone, the films made in the 80s are considered cult films, not only abroad but also in Hungary, and these laid the foundation for Andrew Vajna's career. Other famous films from his work: Basic Instinct (1992), Die Hard 3 (1995), I Spy (2002).