Everything you should know about the Hungarian cuisine
Piroska Paprika Pörkölt
They are the most well-known features of the Hungarian cuisine and culture among foreigners. But what is the real secret behind its fame and popularity? Let's examine the Hungarian culture a bit deeper.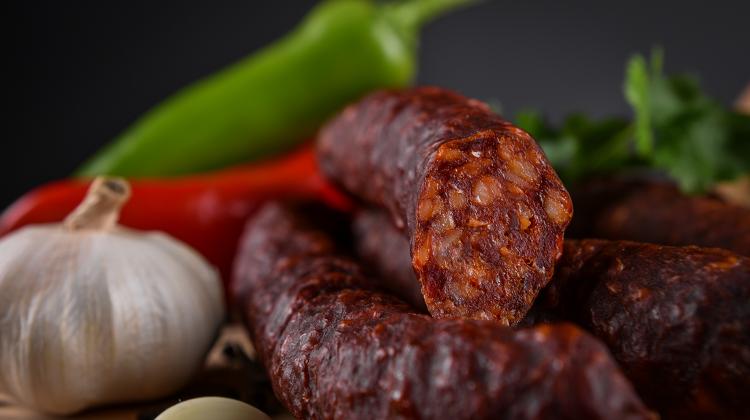 First and foremost, Hungarian cuisine has influenced the Hungarian history, and also vice versa. The nomadic lifestyle of the Magyar people who raised livestock (chicken, pigs, and sheep) and cooked meals over the fire in a bogrács (cauldron) may be reflected in traditional meat dishes like goulash soup . In the 15th century new ingredients, typical of the Renaissance world, were introduced by King Matthias, such as garlic, ginger, nutmeg, onion etc. During the Habsburg Monarchy methods of food preparation were copied from the Austrians like dumplings or dessert styles, i.e. strudel. All in all, modern Hungarian cuisine is a synthesis of ancient Uralic components mixed with Austrian, Germanic, Slavic and Balkan.
PAPRIKA is a quintessential spice used during the preparation of many second courses such as Chicken paprikash with noodles or roasted paprika potatoes. If paprika is roasted together with onion (so-called pörkölt or stew) they usually make the basis of meat dishes.
BREAD is perhaps the most important and integral part of Hungarian cuisine. It is eaten at many meals, often as a side to main dishes. There are numerous types baked nowadays: white bread, whole-wheat bread, bread with seeds etc. A special type of bread, kalács, which is really sweet and you can purchase it in different tastes: cocoa, or the famous Hungarian sweet bread-like cake called Kürtőskalács (chimney cake).
GOULASH SOUP and stuffed cabbage, hurka, Easter smoked ham and eggs and sausages, Christmas beigli etc. are special occasion dishes. The goulash soup – a soup for heroes thanks to the strong spices-, is a sheer pleasure, a unique male dish. The origin of goulash soup, a symbol of Hungary, traces back to the 9th century to stews eaten by Hungarian shepherds. It is usually cooked in cauldrons on an open fire.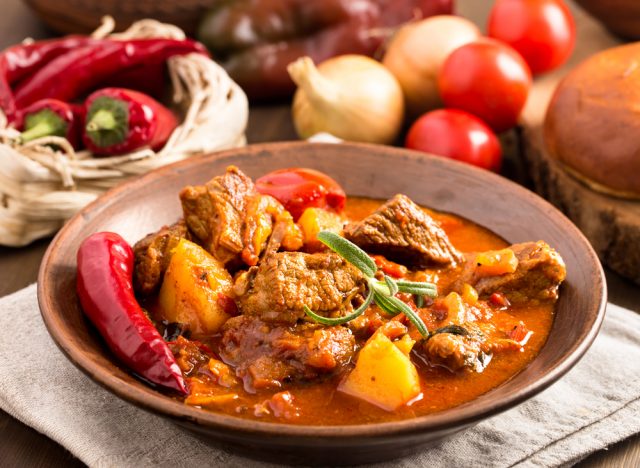 Stuffed cabbage means cabbage leave rolls filled with savory ground beef and rice, served with sour cream on the top and bread in traditional Hungarian homes. Hungary offers a vast number of sausages which can be boiled, fresh, dried or smoked, of course, with different spices and flavors, hot and mild. Some of these sausages are regarded as Hungarikums, for instance: Gyulai kolbász, Hurka, Debreceni kolbász.
FISH SOUP or Fisherman's soup, halaszlé in Hungarian, is a hot, spicy paprika-based soup from diverse fish: carp, trout, perch, pike, and catfish. It is particularly prepared in the Tisza and Danube regions. The soup is cooked in small kettles on an open fire with onion, paprika, black pepper, white wine and tomato juice. Depending on the amount of hot paprika the soup can vary from mild to very hot. It is directly served from the kettle and eaten with fresh bread. The most popular ones are Fisherman's Soup a la Szeged, Paks or Baja. Moreover, competitions are held at fairs along the river bank in summer.
PICKLES: fermented vegetable products are often served to Hungarian food, mainly to meat dishes. The most well-known ones are savanyú káposzta (sour-cabbage), soured peppers, gherkins or mixed vegetables (cauliflower, baby watermelon, cucumber). These are rather consumed in winter as the main source of C vitamin.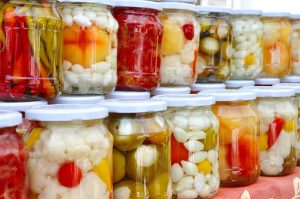 DESSERTS: Hungarian culture is unimaginable without desserts. Cakes, cookies are regularly consumed besides a fine coffee in the afternoon or on special occasions like wedding party, graduation party etc. The most often used ingredients of them are chestnut, cottage cheese, sour cherry, poppy-seed, nut and chocolate. Just to name a few popular sweeties: Dobos cake, cottage cheese strudel, beigli (nut or poppy-seed roll), Eszterházy cake, Somló sponge cake, Rigó Jancsi Chocolate Mousse Cake, Plum Dumplings, Hungarian Chestnut Puree with whipped cream on the top etc. Not to forget the queen of traditional fairs or any type of open-air festivals, where you will smell the mouthwatering sweetness of the Chimney cake from far away. This bread-like cake has a long story back to Hungarian history and even nowadays worthily famous between Hungarian people and tourist as well.
HUNGARIAN WINE: In vino veritas – the famous slogan of wine consumers and winemakers. The Hungarian wine culture dates to the Roman times. Wines have always played an important role in catering. Due to its long history and the adequate weather conditions of Hungary there are nowadays 22 wine regions. The best-known wine is Tokaji Aszú (after the North-Eastern region of Hungary, Tokaj). Here, harvesting only starts at the end of October so as to allow noble rot to develop and obtain the maximum concentration of grape must. Aszú wine has several types with 3,4,5,6 puttonys. 'Puttony' represents a basket of thirty kilos of Aszú grapes added to the 'Gönci' barrel filled with grape must. The highest number of Puttonys the Aszú has, the sweetest it is.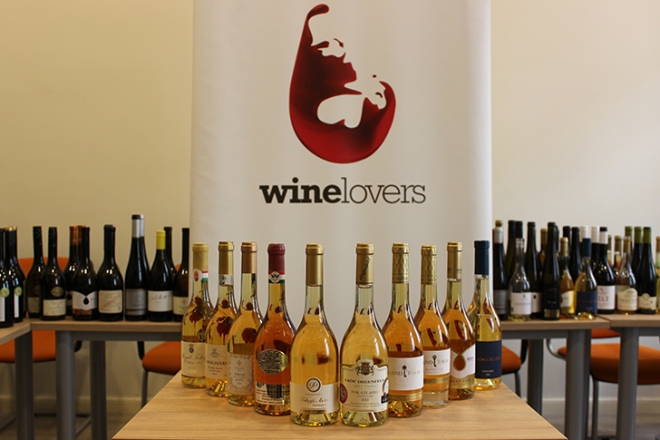 Other world-famous Hungarian wines are Bull's Blood, a full-bodied red wine, Irsai Olivér, a white wine with a Muscat aroma or Kadarka, an excellent red wine with pale color. White wines are generally served to light dishes, for example grilled trout with almond and parsley potatoes or roasted chicken breast with mashed potatoes; whereas red wines to greasy meat dishes like roasted wild pig with noodles or fried pork. If you would like to join to an interactive wine tasting game where you get the chance to learn and taste different type of Hungarian wines, join our WineCasino program on board, where you get an amasing Hungarian folk show and a sight seeing tour on the river Danube.
Haven't you got hungry after reading about these mouth-watering dishes? Come and try them in a traditional Hungarian restaurant or buffet or during a Danube river cruise.