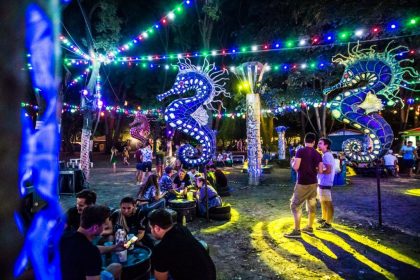 Sziget festival, the island of freedom
Budapest festival also in this year, the so-called Sziget festival 2019, is one of Europe's largest one-week, outdoor musical festivals with hundreds of programs from the 7th to 13rd of August, 2019. Following the last year's – Sziget festival 2018 – record-breaking attendance, the island of Hajógyári now is also waiting for lots of festival-goers. Sziget always has great list of world-class performers, in 2019 the first one is Ed Sheeran. You can choose from many ticket types from daily pass to weekly. Or try the season ticket for three, five or seven days.
The island of freedom – Sziget festival
Budapest festival – Sziget is one of the largest light music and cultural events in Europe visited by thousands of people from all over the world held every August in Budapest on the Óbuda island. In 2011, Sziget became the first of twenty-five largest festivals in Europe. Many non-governmental green organizations participate, paying attention to environmental protection and many programs are held during the week for example, you could enjoy cinema, theatre or other art venues and sport facilities are waiting for you. Moreover, ATM machines, many restaurants, first aid points, luggage storage, babysitting, post office, pharmacy, several tents are all the part of the festival. In addition to the concerts, this year Sziget is also a rich cultural program. Circus, theatrical and dance performances do themes about the protection of environment or human rights. Sziget visitors should know the fact that it is not only a musical but also a multicultural festival where many other performing art programs will be held besides music ones by performers from sixty-two countries, providing a thousand-program entertainment. Furthermore, this year the festival will have the strongest musical performance in the history of the Sziget festival lineup. Today in Budapest there is no safer place to party than Sziget due to the establishment of a multiple safety system. The island will be built over three weeks this year and the festival-goers will be served by twenty thousand people. More than a thousand people will ensure the security 24 hours a day.
A list of some do-not-miss-things:
Your voucher with the bar code or QR code on it
Your valid identity card or passport
If you stay in tent: waterproof tent, sleeping bag, polyfoam, light, charger and batteries
All-weather footwear: closed shoes, sandals, slippers
Hygiene supplies, towels, medicines, caps, sunglasses, raincoats, warm clothes, swimwear, etc.
Your MasterCard
Why is Sziget cruisin boat party is a great experience?
For the third time this year, the party boat ensures you to explore Budapest from the most spectacular view. Everyone can find the program they are looking for on board, whether it is a relaxation with the Parliament in the background or a party in the deck. You could admire the world-famous panorama of Budapest; the bridges will be over your head and the centuries-old buildings will be desired crossing the Danube. You should follow the timetable not to miss out on it: 11.00 am – 12.30 pm boarding at Dráva street, Sziget harbor (only with valid Sziget festival admission), 1.00 pm – 5.00 pm cruising, 5.00 pm getting off at Szilágyi Dezső square harbor. What makes it really special? On the boat, the centre of Budapest comes to you in a way that very few people have ever seen. We guarantee an exclusive sightseeing tour with gastronomic experiences. If you are really interested in an extra party, with VIP bracelet you have the right to use a unique indoor area, taste unlimited drinks, food and gifts.
Do you love festival feeling but sometimes desire to be far from the crowd? Would it be nice to move out for a little tile during the day till before the party? Well, we could show you five places to get some likes for an Instagram photo. Use HÉV as public transport stopping before the festival entrance or go by bike, boat or car but do not miss out on these attractions as the followings: Szentendre, Visegrád, Kisoroszi and Rám-szakadék. Let's explore as many sights of Budapest and its surroundings as you can during your stay at Sziget festival.
We are so curious to see who the followings will be next year. Seven days of music, party, art and island of freedom. The best week of summer! This is the SZIGET!