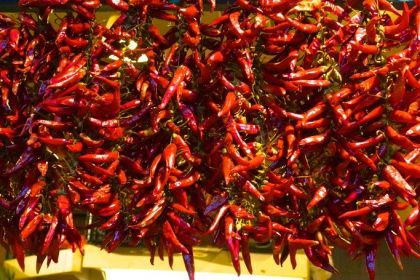 If you start to cook a Hungarian food, even you don't know yet what to cook, buy onion and paprika and you will be fine
If you think of the Hungarian cuisine, you will surely think of something which is seasoned with paprika. It appeared in Hungary in the 16th century and fast superseded the most of the former seasons. Nowadays it's an emblematic spice of Hungarian food. It's an interesting fact that it's a relative of the potato.
History of Hungarian paprika
As we know, 'red pepper' came to Europe from America. In Hungary, it was first planted in the 1570s as an ornamental plant in rich noble families' gardens. She was a really eccentric woman: she sometimes wore male suits, rode like a man, and she even got divorced which was an incredible thing in those ages. Anyway, for long years it was considered as a nice flower.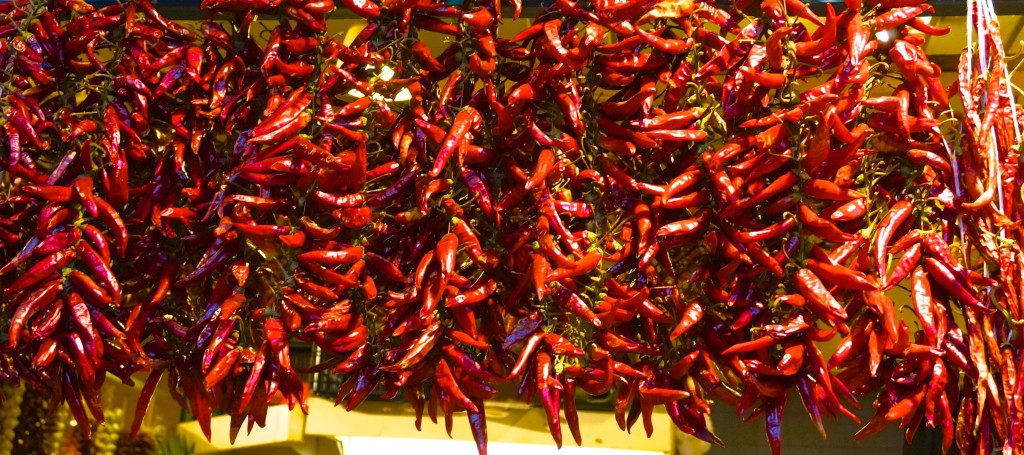 It had lots of names; the 'paprika' name appeared in sources only in 1724. In the 18th century, this plant became widely known. Sources say that by 1775 not only nobles but also peasants planted it. After Spain, Szeged was the first region in Europe where spice paprika was grown, and Kalocsa fast followed it. The first recipe which includes this season is found in a cookbook published in 1771. By the end of that century, paprika became rather cheap and superseded pepper and other traditional seasons. Moreover, it was used not only as a spice but also medicine. For example, it was taken against cholera during the big epidemic in 1831. Anyway, until the middle of the 19th century, it wasn't grown in industrial methods, only around houses as a self-supporting way.
Best-known Hungarian food
Almost every traditional Hungarian dishes contain some paprika. The most famous is probably the fisherman's soup but we could mention goulash or chicken paprikash. In Hungary, there are two main types of this fish dish. Fisherman's Soup a la Baja contains some thin-cut soup pasta (csipetke) while in Szeged, people don't put any pasta in this food. Goulash is a stew of meat and vegetables, but it can be also a soup. To make chicken paprikash, you should simmer the meat in a special sauce which contains some paprika-infused roux. Another characteristic dish called 'paprika potato' consists of potato, vegetables, and meat, naturally seasoned with paprika.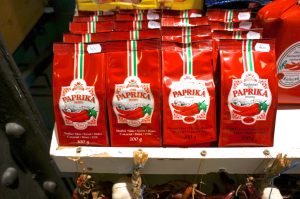 The cold kitchen also prefers this hot spice. 'Körözött' is some cottage cheese with paprika (or other seasons) and onion. Aspic may be seasoned with it, but some bread greased with some fat and sprinkled with paprika is also delicious.
In several restaurants, there are not only pepper and salt on the table but also some paprika, so you can re-season your food. For home-cooking, you can buy also paprika pasta in tins or tubes. Their trademarks are 'Erős Pista' (Strong Pista) or 'Édes Anna' (Sweet Anna); they're produced by the Univer factory in Kecskemét.
What should be drunk for spicy food?
There are 22 wine regions in Hungary so you can easily find a suitable Hungarian wine for any kind of dishes. An old theory says that you should choose white wine if you eat white meat, and choose red wine for red meat. This thesis has already been refuted, so spices and the ways of making the food are determinant in modern gastronomy. For spicy food, red wine is absolutely recommended. Blue Frankish or Cadarca are excellent choices for fisherman's soup or paprikash. However, dry white wines are also worth tasting. They are a little bit bitter, so their tastes harmonize well.
An interesting fact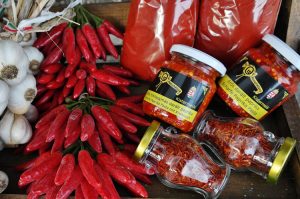 In Hungary, the common paprika is often called 't.v. paprika'. Naturally, it doesn't refer to television! This funny abbreviation means 'tölteni való' (suitable for filling) in Hungarian but these words were too long, so couldn't be written on the characteristic black slab of the boxes containing paprika. Thus vendors wrote only the initial letters.
Paprika in the Hungarian culture
Dried paprika in garland could be seen in village houses. People eat them, of course, but these garlands also work as decoration. If you like buying souvenirs, you probably have seen folk embroidery. In the region of Kalocsa, besides colorful flowers, some pieces of paprika from these garlands always appear on embroideries.